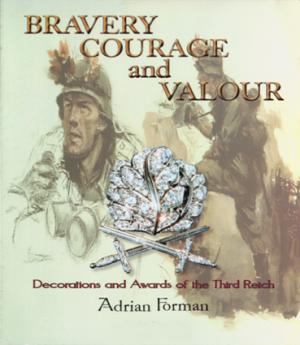 BCV - Bravery Courage and Valour.
Decorations and Awards of the Third Reich. (2008).
*1st Edition Limited Edition Author signed 350 numbered copies complete with
Bookplate.

*Published retail price in 2008 = £65.00/$100us + p/p.
SALE PRICE *ONLY A HANDFUL LEFT IN STOCK = £49.95 + £9 p/p in UK only.

**Shipping is higher due to size of this large deluxe 12"in x 10"in (A4) book !


Bravery, Courage and Valour examines facts & nuances of the highest decorations awarded from Spanish Civil War through to 1945 by Hitler during Third Reich! Many unpublished wartime & modern images enhance the readers appreciation of such extremely rare Awards bestowed on National Heroes during the war, Germany's "Bravest of the Brave" !
The inclusion of wartime images & rare colour portraits of Heroes by Hitler's personal Photographer (Walter Frentz) gives a feeling of the period.

An Academic reference work presented in a readable style for both connoisseurs, historians, collectors and the general public alike.

Details: Heroes illustrated wartime stories. Awards history, Lists of Holders, Makers marks and Variants with many Obverse & Reverse images. Brilliants awards images enlarged to appreciate the beautiful & exquisite designs in detail along with images of superb massive Brilliants encrusted Cassettes & Gold Titled Vellum Documents created by a handful of Master Craftsmen & women, most being Works of Art in their own right!

*1st Edition Limited Edition Author signed 350 numbered copies complete with Bookplate. ONLY A HANDFUL LEFT IN UK STOCK!

420pp. Over 1,000 images. Size: 12"in x 10"in. Sewn-in archival superior quality paper pages combined with superb deluxe laminated hardback colour covers give the book an extended lifetime of durability. Large size text print.

*350 Limited Edition copies; not 500 copies as with some Newer Forman Titles

*ACTUAL BO0K PRICE is only = £49.95 Sterling. With 23% PRICE DISCOUNT !
*Shipping is very costly due to being heavy & massive size of this deluxe book !


(ISBN: 9523571-5-1)
Click here to view sample pages from book
Collectors Limited Edition
Only 500 copies of this book will be printed, each will be numbered and personally signed by the Author