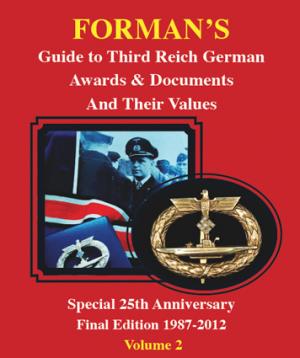 V2 Forman's Guide to Third Reich German Awards & Documents And their Values.
Final Edition 1987 - 2012 Volume 2.

*Published Retail Price in 2012 = £65.00 + p/p.
SALE PRICE *ONLY LIMITED STOCK LEFT = £54.95 + £5 p/p at cost in UK only.

Volume 2. Massive volume with 50 extra pages and over 900 extra images compared to its companion Volume 1; as before illustrating both the obverse and reverse of only 100% original pre 1945 awards; as well as now including award certificates and documents, mostly in colour.many additional colour images & extra b/w photographs from Dr K. G. Klietmann Berlin Archive compared to Forman's Guide Volume 1.

Further additions include images of excessively rare awards and some superb unique presentation documents. All with a newly revised price guide.

1st Edition limited printing of only 500 author signed copies complete with Special Limited Edition Author signed & numbered Bookplate

Newly created exciting deluxe book format & size. ( Adrian Forman Publishing )

Size: 10"in x 8"in approx 1,700 images & 453 pages. Deluxe hand-sewn binding, archival paper Laminated quality colour hardback cover & additional Dust-Wrapper.

(ISBN: 978-0-9523571-8-6)
Click here to view sample pages from book
Collectors Limited Edition
Only 500 copies of this book will be printed, each will be numbered and personally signed by the Author