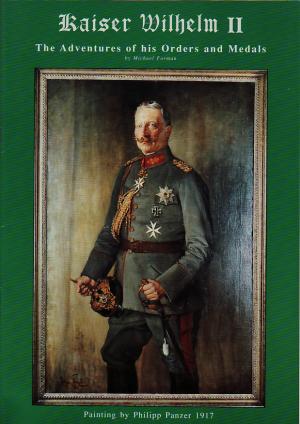 "KAISER WILHELM II - BOOK"
Emperor of Imperial German Empire
Photographs of the Unique WWI German State Orden Group & Pre WWI & Wartime Orders & Decorations. Author: Michael Ralf Forman Snr.


* Superb quality large colour photographs of Forman collection of Kaiser's Awards
Unique WWI (21) German State Awards Grouping inc Iron Cross 1914 (Spange).
Unique Order of Red Eagle & Bulgarian Order of Death's Head with Swords plus other Kaiser Imperial Orders, Liberated from the Berlin Zeughaus Museum in 1945!


ISBN 0-9520040-0-3. Deluxe Colour soft cover.
Size: DIN A4. **Limited Edition of 1,000 (1992).

NEW SALE PRICE = £5-00 Plus Postage at cost
- UK £1 or £2 Europe, USA £3 or Worldwide £4.

(ISBN: 0-9520040-0-3)
Click here to view sample pages from book
Collectors Limited Edition
Only 500 copies of this book will be printed, each will be numbered and personally signed by the Author