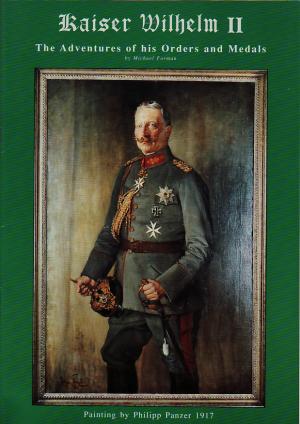 KWII - "KAISER WILHELM II WWI AWARDS" - IN COLOUR
Emperor of Imperial German Empire Kaiser Wilhelm II Unique WWI German State Orden Group & Pre WWI & World WWI era Unique Orders & Decorations formerly in the M.R.Forman Snr collection.

Superb quality detailed obverse and reverse colour photographs.
With rare close up photo of the late Kaiser lying in State Coffin at Doorn Holland; 1941 wearing decorations, taken from the Album of the German Army Officer (Wehrmacht) representing the Fuhrer Hitler.
**As Commander in charge of the Funeral Cortage displaying the Kaisers State Funeral Cushions bearing the Orders and Decorations of the Emperor this unique series of images will be illustrated in a future book by Adrian Forman -
See Book projects on www.adrianforman.com
Author: The late Michael R. Forman Snr.
PRICE £12.95 + £3 p/p in UK

* Superb quality large colour photographs of Forman collection of Kaiser's Awards
Unique WWI (21) German State Awards Grouping inc Iron Cross 1914 (Spange).
Unique Order of Red Eagle & Bulgarian Order of Death's Head with Swords plus other Kaiser Imperial Orders, Liberated from the Berlin Zeughaus Museum in 1945!


ISBN 0-9520040-0-3. Deluxe Colour soft cover.
Size: DIN A4. **Limited Edition of 1,000 (1992).

SALE PRICE = £9.95. Plus Postage at cost
- UK £3 or £3 Europe, USA £5 or Worldwide £6.

(ISBN: 0-9520040-0-3)
Click here to view sample pages from book
Collectors Limited Edition
Only 500 copies of this book will be printed, each will be numbered and personally signed by the Author