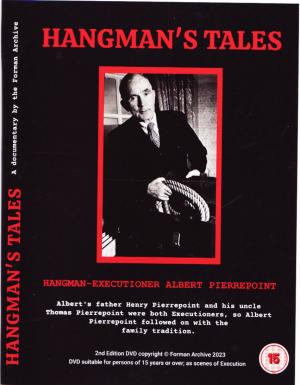 DVD: HANGMAN - EXECUTIONER ALBERT PIERREPOINT
Pierrepoint hung infamous Murderer's Haigh; Christie; Neville; Ruth Ellis,Wartime British Traitor's Lord Haw-Haw & John Amery, The Beasts of Belsen….

Unique Interviews of famous Hangman & Executioner Albert Pierpoint he discusses Infamous Criminals & Murder Cases, British Traitor John Amery, Captured Nazi Spie, the Nazi Beast of Belsen, SS Comandant Joseph Kramer, Female SS Guards Irma Grese & Elizabeth Volkenrath, with X-Rated Filmed Movie of Real Executions of Japanese & American War criminals & X-Rated Nuremberg Images of Top Nazi's after being Hung Plus 2 British Assistant Execution Hangmen interviews regarding their experiences at Official Hangings of criminals.

**Brief historical introduction has illustrated lurid tales of some 18th & 19th century Murderers with descriptions of Execution equipment inventions etc.

*** NOTE ONLY(3) LEFT EXTREMELY RARE UNIQUE FOOTAGE £32,95 INC P/P
DVD.

DVD Pal System. (Area UK & Europe) Approx 1hr.
Hard Case Title

****ONLY 3 LEFT IN STOCK NOW A UNIQUE EXT RARE COLLECTORS ITEM

Price = £29.95. plus p/p £3 in UK.

(ISBN: NONE)
Click here to view sample pages from book