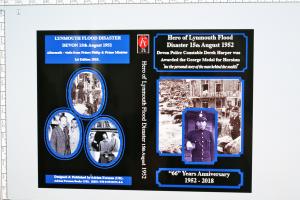 HERO OF THE LYNMOUTH FLOOD DISASTER - 15TH AUGUST 1952 1st Edition.

Devon Police Constaple Derek Harper was awarded the "George Medal for Heroism" (*Includes the story of the man behind the medal).

***Price = £10.95p plus £2 p/p in UK

DINA5 Size Soft Cover 176pp Over 190 illustrations and photographs.
ISBN Number: 978-0-9523571-2-4 Designed & written by Adrian Forman
Published by Adrian Forman Books.


*A CONSIDERABLE Donation from each book will go to Local North Devon Cancer charity, created by Derek's granddaughter, Lisa who suffered with Breast Cancer herself; both Lisa & her charity, "CHEMOHERO" became quite famous in recent years with Lisa becoming a National Hero of the Year, with appearances on TV & newspapers before she sadly passed away in 2021; leaving behind, Husband Rob & her son Stanley, aged 12yrs both of them are like the rest of Lisa's family very proud of her amazing Life-time achievements and Awards. The Charity will continue in memory of Lisa.

(ISBN: )
Click here to view sample pages from book