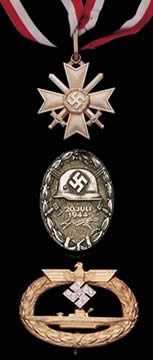 Bravery Courage & Valour
Decorations & Awards of the Third Reich Volume 2.
This last volume continues with the Wartime Bravery Awards and Certificates to members of the Wehrmacht and Reich home-front. Including the Knights Cross 1939; Iron Cross 1939 2nd Classes awarded to Females and members of the HJ; the War Merit Cross 1939 all grades from the Knights Cross in Gold downwards and other awards for bravery, courage and valour.
Many period & modern images in b/w and colour with coverage of some outstanding military, civil and political decorations and awards including those for contributions to the war effort with images of excessively rare awards, certificates and documents, many published for the first time!