Martha Raye & Her Boys in Vietnam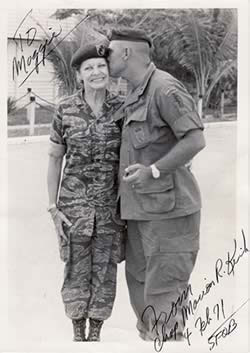 Martha Raye, affectionately nicknamed "The Meanest Mother in the Valley", was an exceptionally brave woman; a movie star who nursed and befriended SF Green Berets, in Vietnam .
This is the story of Colonel Maggie and a handful of those men whose bravery & heroism is illustrated in 100's of colour & b/w period images and text.
Part One - Concentrates on episodes from Martha's many trips to Vietnam and the reasons she became a legend.
Discover how her special relationship with the famous "Green Berets" brought her right to the fore of the conflict, visiting small bases for SF Recon Teams.
Read how, when the unit she was with, came 'under fire', she went into nurse mode, helping the medical team or comforting wounded.
Find out why, she was also affectionately nicknamed the, "Meanest Mother in the Valley"
View many colour photographs of actual artefacts and presentation diplomas, plaques, uniform, insignia, letters and documentation presented to SF Colonel Maggie and now in the Martha Raye Vietnam Archive. (acquired by the author in 2006).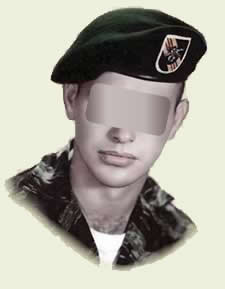 Part Two - Focuses on in-depth profiles, full of enthralling stories of heroism, from just a handful of members of SF Green Berets secret projects or operations and clandestine recon missions in Vietnam, Laos or Cambodia. .
Guest profiles of Special Forces related heroes including a USAF Fighter Pilot, who uniquely volunteered to go on an actual 5th Grp USSF Mike Force mission and survived to tell the tale.
The background story of the 5th Grp Green Berets, their special projects and secret missions in Vietnam, which still remain clouded in a secrecy that few outsiders have penetrated.
Get a rare insight into the life of the code named CIA secret Agent, who was running ex Viet Cong members in the secret and highly controversial Phoenix Program with photographic material.
Many photographs & illustrations of rare actual 5th Grp Green Berets uniforms, insignia, photographs, and documentation, RT patches or Valour awards and citations.