HIDDEN TREASURES - THE LIFE OF AN UNKNOWN ARTIST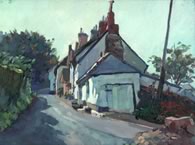 1926 - 1995. (Celebrating over "60" years of painting).
A Comprehensive study of an English artist at work, in words and images; encompassing all aspects of his output from early childhood to his last sketch in 1995!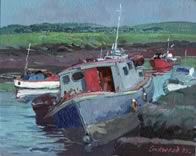 I first discovered this artist after being captivated by a wonderful painting of an old wooden hulled boat moored up amid green reeds. The owner was a friend, who suggested contacting the artist's family.
Some weeks later I was invited to visit the artist's widow with a view to seeing her late husband's, studio and works of art. Little did I suspect I was about to enter Aladdin's cave…..hidden away in a West Country artists studio and unseen for all these years - what a sight, wall to wall, painting after painting of traditional old wooden hulled boats and wonderful English landscapes in either oils or watercolours - it was truly breathtaking.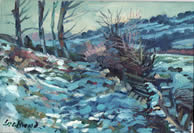 Only later did I realise that despite being a very talented Landscape painter and a potter, he was virtually unknown except to a handful of local friends despite already being well established as an artist by the 1950's with the equivalent to Bachelor of Arts Diplomas for both his painting and pottery.
This book will contain 100's of colour photographs sellected from 1,000 plus works and sketches including images of his glazed ceramic pottery designs. A selection of original pencil sketch books; spanning many years, with an analysis of his use of palettes, brushes, and paints.
Read about and view images of his actual painting equipment, including his brushes and oil paints, the portable easel and artists palettes, examples from his many sketch books, various pencils, paintings done for exam papers, history of art exam work complete with miniature paintings in style of famous painters for his diploma studies, pens and instruments associated with his work as well as his original official teachers and Artist qualification certificates and diploma's
Read about and view images of his wonderful and unique creations of beautiful glazed Pottery including experimental designs, shapes textures and glaze finish.